Hello!
As I said in my last post, I was working on a scarf. I'm very proud of myself as it turned out exactly how I imagined it :)
Now I'm working on similar one, but a manly version - grey one, without pom poms and with normal sized "endings" ;)
Unfortunatelly during past couple of days there was NO sun at all, it was gloomy all the time, so I had to make these photos in very bad lightening... That's the beauty of living in UK... :(
There's 160 rows - 140 rows of puff stitches and 20 rows (10 on each side) of dc, so it's quite long ;)
For more informations (yarn & hook used, pattern) check out my
ravelry
:)
And the one I'm working on right now:
I also signed up for an ornament exchange at One Artsy Mama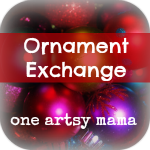 I can't wait to recive details of the person that I'll make the ornament for! I'm so excited about this! :)
Have a nice day!
xx
Linking up with
One Artsy Mama
and
Petals to Picots
.